Ahmedabad's tallest residential project opposite Science City in limbo
August 2, 2021
0 Comments AHMEDABAD: The city's upcoming tallest residential building at Science City — 110 meters tall, 30 floors — the project is currently stuck in limbo.
The reason being that the state government's urban development department, after having announced the finalization of the development control regulations (DCR) in May this year, is yet to constitute a technical committee, involving engineering institutions and government experts. The committee was to review building design and run simulation studies on horizontal load — how the building would react during earthquake — and wind load.
The Ahmedabad Municipal Corporation (AMC) is presently examining the project after having been intimated by the state government last week. If the project passes, it will be at the 92.4 metre building height of three buildings that is expected to come up on the Sabarmati riverfront.
According to plans available with the AMC, the skyscraper residential project, spread over a 14,000 square yard plot just opposite Science City will consist of 348 units.
There are plans for 3 and 4 BHK apartments of 3,500 sq ft, 4,500 sq ft and 5,500 sq ft carpet area. When TOI contacted the developer, Prakash Karsan Patel, he said, "The DCR was finalized two months back while I had submitted the project eight months earlier for consideration."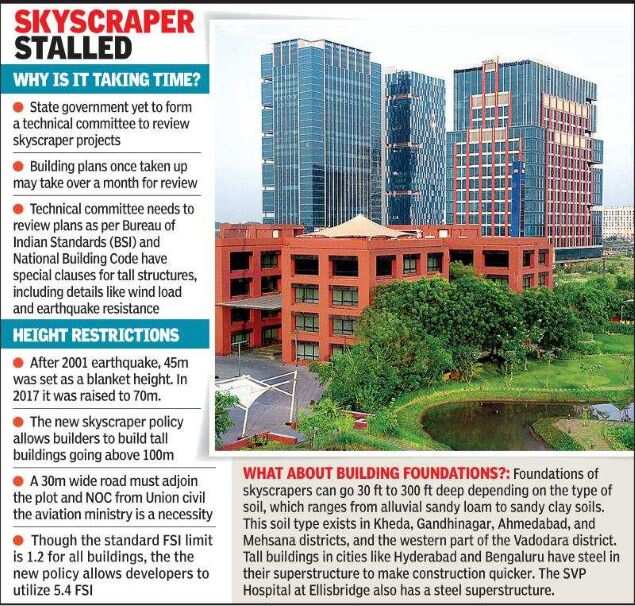 Under the current general DCR, the maximum limit of any building was earlier confined to maximum 45m, since the 2001 earthquake. It was then raised to 70m — which translates to 22 or 23 floors — in 2017.
The new policy for tall buildings that was announced in August 2020 allowed builders to make the sky their limits, provided a road of at least 30m width adjoined the plot. The developer also has to procure an NOC from the Union civil aviation ministry or Airports Authority of India (AAI).
Sources in the AMC claimed that skyscrapers can come up in zones that have a Floor Space Index (FSI) of more than 1.2. The new policy allows an FSI of 5.4 but the developer will have to pay for FSI above 1.2 at 50% of the jantri value (revenue ready reckoner rates) of the non-agricultural land.