Chandigarh admin objects to Rs 643 crore for 728 flats without covered area information
October 4, 2021
0 Comments CHANDIGARH: After the board of directors of the Chandigarh Housing Board (CHB) approved a financial estimate of Rs 643 crore for the construction of 728 flats under the general housing scheme in 16.6 acres of land in two pockets at IT Park last month, the UT administration has now raised objection over the nod to the amount without submitting details of the covered area of the project.
The UT has asked the CHB for the detailed covered area to justify the amount.
Sources said as the amount was quite huge and without the details of the covered area, it was not possible to justify it on paper. The covered area of any project carries multiple financial aspects. The CHB has been asked about it, so that the amount can be verified and subsequent nod given.
"Assessment of financial part is crucial, especially in this kind of project, which has a huge amount of money. Without the covered area of the project, it will not help to assess the financial amount. Since the details of the covered area consist all components, the justification of the amount will be made accordingly," sources said.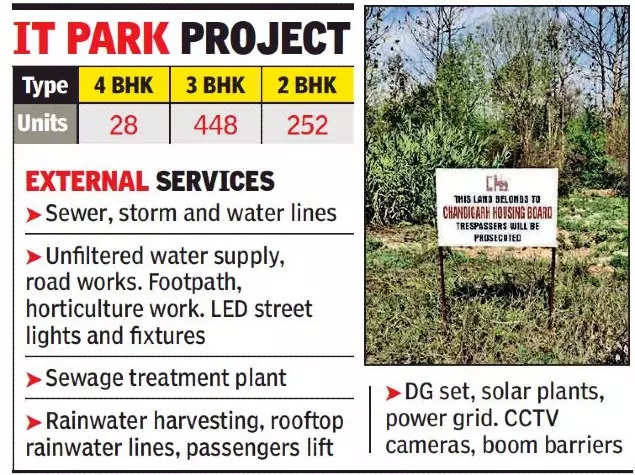 Sources said senior officers have started working on it and the required information would be prepared and sent soon. "It is largely a technical issue. The CHB has the detailed estimates. It doesn't seem there will be any major issue, but senior officers will take a decision and move ahead," CHB sources said.
The CHB had prepared the project of 728 flats comprising 140 under economic weaker section category, 168 two bedroom-hall-kitchen (BHK) flats, 448 three BHK flats and 28 four BHK flats.
As per information, sufficient green area has also been kept reserve in the housing project to maintain greenery. The area is near to the forest and Sukhna Lake.