Budget homes pushed to Hyderabad's fringes as land prices hit the roof
August 21, 2021
0 Comments HYDERABAD: The rapid rise in land prices has pushed 'budget' homes to the fringes of Hyderabad. Available in the Gachibowli-Kokapet-Narsingi belt until three years ago, buyers now have to drive at least 20 km away from 'hi-tech' Hyderabad, to find a house in the Rs 60 lakh to Rs 80 lakh budget.
Their new locations: Kollur, Kismatpur, Shamshabad among others. On the eastern corridor, the budget destinations have shifted to areas along the Nagarjuna Sagar Road – about 30 km from the Secunderabad Railway Station.
"This is deeply rooted in land costs that have doubled in some locations in recent times. Since developers are paying such high rates, they are using the unlimited FSI (floor space index) to the fullest to build high rises – nothing less than 30 floors. This has, subsequently, escalated the construction cost," said Sumanth Reddy, managing director of India Institute of Real Estate. He added: "This additional expense is being passed on to the customer."
According to Reddy, majority of homes in the core IT corridor now come with a price tag of no less than Rs 1 crore.
A quick scan of property portals corroborates this claim. Search for homes below Rs 90 lakh throws up limited options in Tellapur and Nallagandla. Most others are either in Kollur and its surroundings or locations like Karmanghat and Adibatla – over 50 km from the IT belt.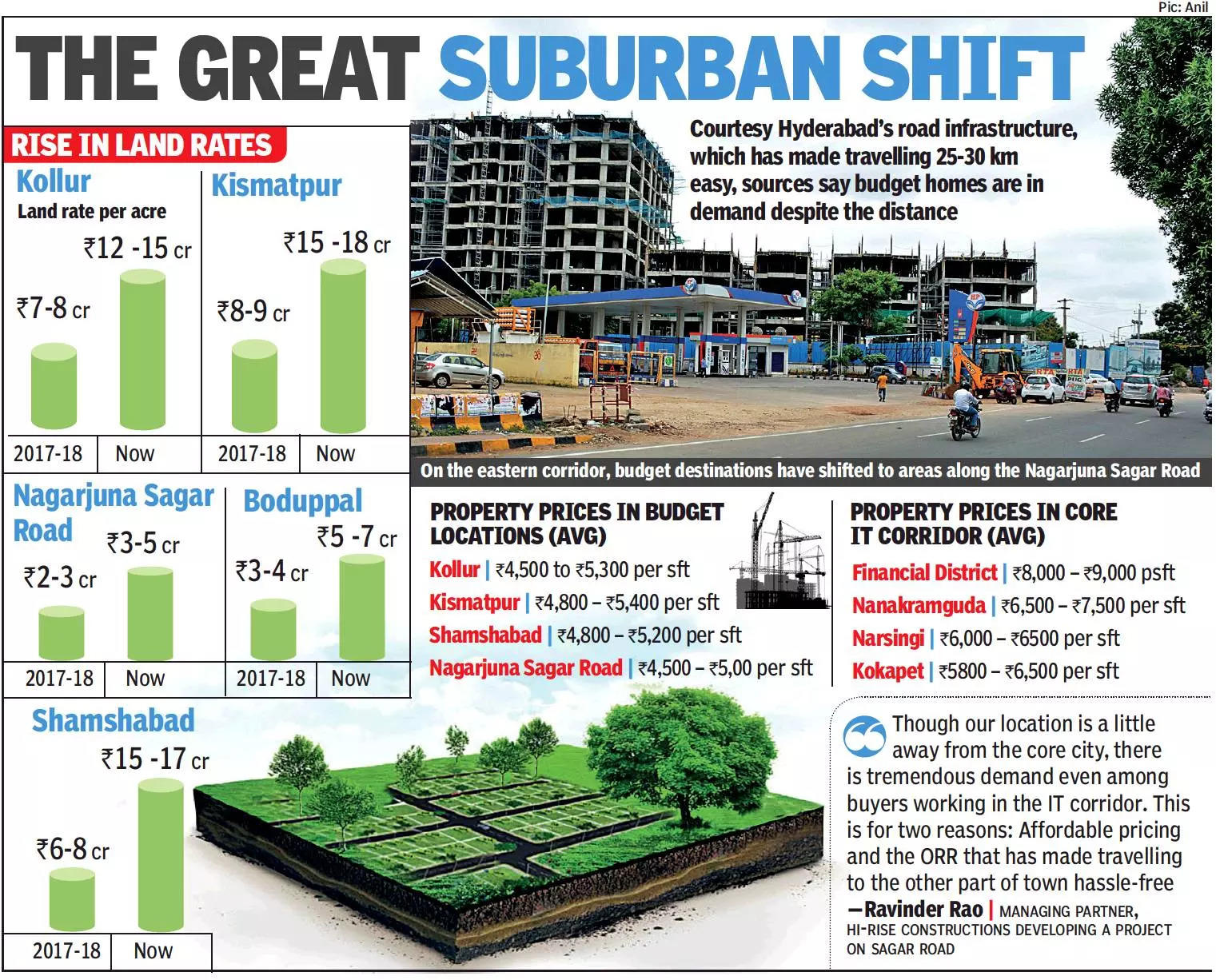 "There has been an at least 30% rise in cost of construction, post pandemic, with a jump in steel, cement, labour and other rates. This, coupled with inflated land values has increased the price of a Rs 80-lakh to Rs 1 crore," said Ashwin Rao of Manbhum Constructions. But the distance notwithstanding, these budget homes are high in demand, Rao was quick to add. "That's courtesy Hyderabad's road infrastructure, which had made travelling 25-30 km easy," he said.
While seconding the city's connectivity advantage, Veera Babu, managing director of Cushman & Wakefield (Hyderabad) said that this trend has put the city's distinction of being an "affordable and quality residential segment under review in recent months".