Chandigarh housing board earns Rs 9.81 crore from 12 residential freehold units
August 6, 2021
0 Comments CHANDIGARH: The Chandigarh Housing Board (CHB) earned Rs 9.81 crore with the sale of 12 residential freehold units in different parts of the city. In the e-tender process, which was completed on Thursday, a 2BHK went for a whopping Rs 1.01 crore in Sector 49 and a 3 BHK in Sector 63 for Rs 1.07 crore.
The board had invited e-tenders for the sale of 46 built-up dwelling units on freehold basis. The 12 units were included for the first time and the other 34 were those which could not be sold during the last three tendering process.
The units were available in sectors 38 (West), 49, 51 and 63. The last date for submission of e-bids was August 4 till 6pm and these were opened on Thursday 10am onwards. Thirty e-bids were received for 12 dwelling units.
Board's CEO Yashpal Garg said, "Based on the location, view and number of available units, it was decided to go for dynamic reserve prices for some of them. Accordingly, the reserve prices were enhanced on an experimental basis. This experiment has resulted in a good revenue to the Chandigarh Housing Board."
During the last three months, the board has conducted three e-auctions for its 109 freehold residential properties. A total of 76 properties have been sold so far and the remaining along with some new properties were included in this auction. Many more vacant properties were identified and included in the e-tenders for the first time.
The exercise of identifying vacant and dispute-free properties of CHB was started recently following the directions of Garg. The CHB staff had identified four commercial properties (leasehold), 15 residential units (leasehold) and 14 residential properties (freehold).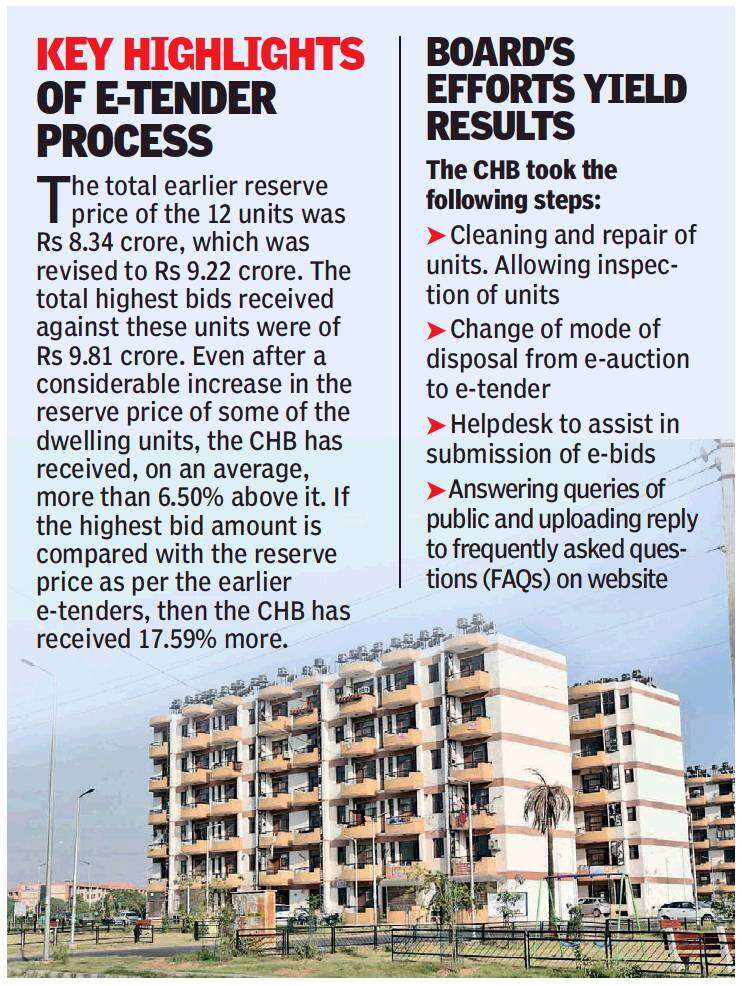 The CHB had prepared a list of 270 properties, including 11 residential (leasehold), 109 residential (freehold) and 156 commercial (leasehold), for sale.
To get a good response, the CHB had reduced the reserve price of the properties by 10%. Not even a single bidder expressed interest in the auction of CHB properties held in 2019 as the reserve price was too high for both residential and commercial properties.
This time, the board had decided to replace the e-auction process of selling properties with the e-tender one. In e-auction, the earnest money deposit (EMD) for participation cannot be paid online. The bidder deposits it in the CHB account and submits a proof. The payment is confirmed by the CHB officers before allowing the bidder to participate in the e-auction process. Hence, the number of bidders for a particular property and their identity is not fully confidential.
However, in the e-tender process, EMD can be paid online and there is no need of any approval. Hence, there is complete secrecy about the number of bidders and their identity.