DMIC: Project-hit families to get flats in Greater Noida
August 28, 2021
0 Comments GREATER NOIDA: The families who will be forced to give up their properties to make way for the Delhi-Mumbai Industrial Corridor (DMIC) will all be given flats in Greater Noida.
To establish a multi-modal logistics and transport hub in the Dadri region, the district administration needs to acquire nearly 84 hectares of land in four villages — Chithehra, Kathehra, Palla and Bodaki.
Earlier this week, Dadri's sub-divisional magistrate Alok Kumar Gupta forwarded the key findings of a social impact assessment study his office had commissioned to find out the status of the families coming under the impact of the project.
According to the study, 1,764 families will be impacted due to the project that is key to boosting economic activity in the Ghaziabad-Dadri-Noida investment region. Of them, 531 people own the land needed for the project while the remaining make their livelihoods through the said land parcels. Among them seven families from Kathehra, close to Grand Trunk Road, will be severely hit once the area gets developed.
"We got in touch with the Greater Noida Authority to solve their housing problems. The villages are notified under the Authority and it has to hand over the land for laying down the freight tracks and other purposes," said additional district magistrate (land acquisition) Balram Singh.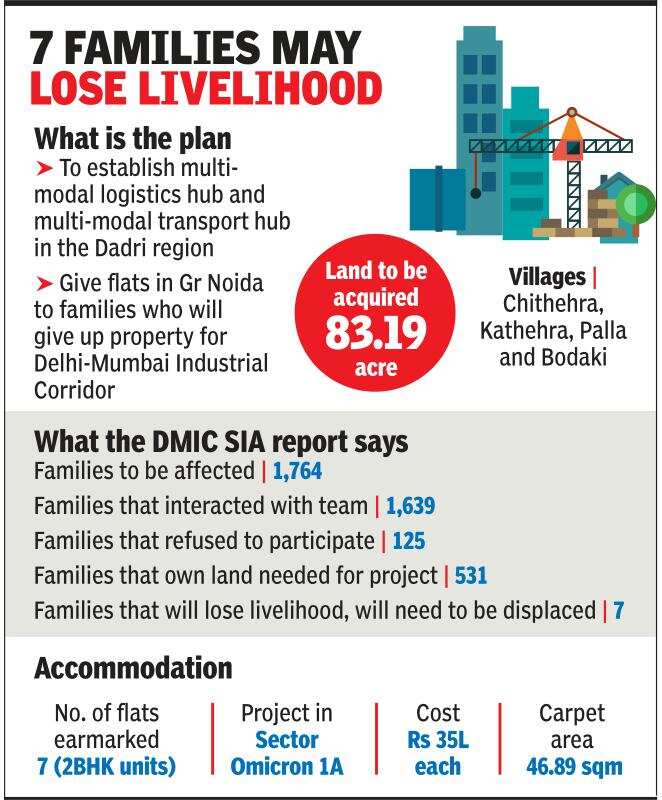 The administration has been facing stiff resistance from the people staying in these four villages. Some 125 families even refrained from participating in the surveys carried out to gauge the assessment of the project on the local population, while 10 families from Bodaki were unwilling to move out. The social impact assessment study was conducted by GB University.
Officials though have managed to convince a large number of the families. "We have been demanding higher compensation in return for our land. But our voices were not heard. Land has been taken over forcibly. We are going to decide our next strategy and would move court if needed," said Manish Bhati, one of the dissenting voices from Kathehra.
Meanwhile, the GNIDA earmarked seven units in the multi-storey building project commissioned by it. Situated in Sector Omicron 1A, the flats will be offered on the 14th floor. Having a carpet area of 46.89 sqm, the 2BHK units are worth about Rs 35 lakh. Officials said the registration amount and stamp duty will be paid by the Authority.